The Small Paycheck and History Teaching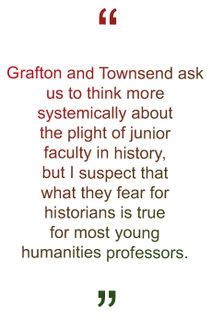 In this week's Chronicle Review section, two of my friends call attention to a serious problem. Tony Grafton is one of the most distinguished humanists in the Western world and a colleague in the Princeton history department. Tony was for three years the elected officer in charge of the Professional Division of the American Historical Association. Rob Townsend administers the AHA's office of research and publication, and he is just finishing a Ph.D. in history at GMU. He is the numbers guru of the AHA, and his periodic reports in the AHA's Perspectives on the statistical state of the history profession are authoritative. These are people to reckon with.
Grafton and Townsend ask us to think more systemically about the plight of junior faculty in history in "Historians' Rocky Job Market," but I suspect that what they fear for historians is true for most young humanities professors. They contrast the short and brutal careers of today's beginning history professors with the long and lucky careers of my generation, that is, those of us who received our degrees in the late 1950s and early 1960s. Competition for faculty was so intense in that era of institutional expansion that newly-minted history Ph.D.'s could expect to find tenure-track jobs right out of the box. But as the supply of Ph.D.'s expanded dramatically (there were 200 graduate students in the University of Wisconsin history department when I arrived as an assistant professor in 1965), supply soon exceeded demand.
The infamous job crunch of those years forced many new historians either into nonteaching jobs in libraries or public history, or out of the profession altogether. But the market for history professors stabilized (albeit at a lower level) in the 1980s, only to come unstuck again in the 1990s.
The result, as Grafton and Townsend explain, was to reintroduce what they call a "threshold" stage into postdoctorate history teaching careers — postdocs, lectureships, visiting professorships, and a variety of adjunct positions. None of these positions were likely to lead to tenure at the institutions where they were held, though some of their incumbents escaped to institutions where they found permanent employment. But most did not, and do not, so that we now have a large and growing adjunct population, struggling to earn a living and to do scholarship, essentially unconnected to any institutional home.
That is bad enough, but Grafton and Townsend also argue that the lucky few who become tenured tend to be locked into low pay scales due to the buyers' market in which they were hired in the 1990s and early 2000s. These are men and women for whom even regular incremental raises do little to bring their salaries up to respectable levels. History salaries today are well below the average for all disciplines.
Alert observers of the profession (and certainly Rob Townsend's Perspectives readers) know something of all this. But Grafton and Townsend contextualize the problem for us, and challenge senior history faculty to wake up and pay attention to the plight of their juniors.
Quite right, I say. And, to repeat myself, I think tenured faculty in other humanities fields ought to take note, for it would surprise me if their juniors were doing any better than the historians.
Return to Top