An Angel for the Humanities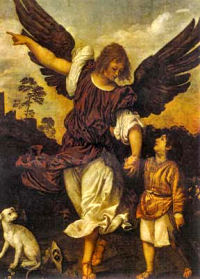 Last week in this space I regretted the lack of an acronym identifying the fields of the humanities, an acronym that would be a counterpart to the scientists' successful STEM: Science, Technology, Engineering and Math. A hundred readers joined in the discussion, and one, I think, came up with the answer to our prayers: RAPHAEL.
It would signify:
R – Religion
A – Art
P – Philosophy
H – History
A – Aesthetics
E – English
L -Languages
Admittedly, the acronym isn't perfect.
—If Art, why not Music and Theatre? Or do the fine arts occupy an ATM of their own rather than belonging with the humanities?
—If English, why not French and Japanese and any other language? Well, we have a lot of humanities faculty professing English, and we needed something for E. The next letter of the acronym encompasses the rest.
—Should Literature be on the list too? Well, it's covered by English and Languages, and there's only one L in RAPHAEL
But despite those questions, RAPHAEL does identify the main concerns of the humanities.
(Nearly as good was MS's ALPHA: Arts, Literature, Philosophy, History, Aesthetics. But I think we need religion.)
Credit for RAPHAEL goes to dank48. I'd be happy to properly credit the person behind that tag, if the person chooses to reveal him- or herself.
Raphael himself is an excellent exemplar of the what the humanities study. From the biblical Book of Tobit we learn that he, along with Gabriel and Michael, is one of the seven archangels who stand before the lord. He's also known as a healer; his name translates to "God has healed."
Then there's the heavenly Italian painter Raphael, "the supreme High Renaissance painter" in the estimation of London's National Gallery, "more versatile than Michelangelo and more prolific than their older contemporary Leonardo."
And then in more recent times there's Raphael, one of the four Teenage Mutant Ninja Turtles (along with Michelangelo and Leonardo).
Not being a theologian, art historian, or comicbookologist, I don't have that much to say about these Raphaels. But they are all legitimate objects of humanistic study and give resonance to the acronym.
So I say, ye professors and students of the humanities, put that acronym on your next T-shirt and spread the word to the world.
Return to Top