A Hill Tribe Resettles in the Land of 10,000 Lakes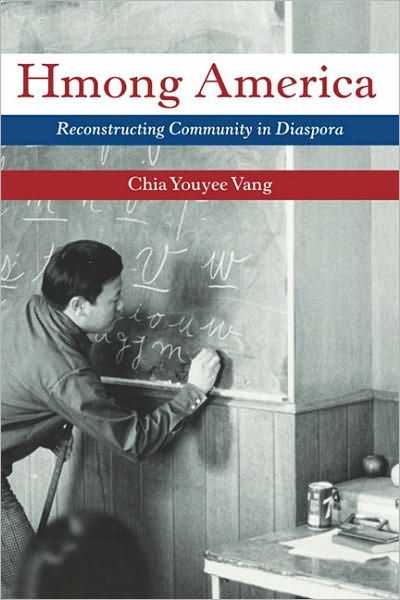 Beginning 35 years ago, members of the Hmong hill tribe from Laos have resettled as refugees in the United States. Now a Hmong-American historian offers a rare scholarly insider's look at their experience.
In Hmong America: Reconstructing Community in Diaspora (University of Illinois Press), Chia Youyee Vang traces the path of the Hmong from the highlands of Laos, where they were embroiled in the conflict between pro-Communist and U.S.-backed anti-Communist forces, to resettlement.
Vang, an assistant professor of history at the University of Wisconsin at Milwaukee, focuses not so much on the victimization of Hmong refugees as on their agency: how they gathered in large communities in the Midwest and California in spite of some U.S.-government efforts to disperse them, and how they created ethnic organizations, churches, and funeral homes that reinforce their cultural bonds.
An estimated 70,000 of the more than 200,000 Hmong in the United States live in Minnesota, most of them in the Twin Cities. Vang concentrates on the resettlement in that state, where she moved with her own family in 1980 when she was 9.
The Hmong are sometimes represented by the American news media in a simplistic way, as if they all share the same beliefs. Vang offers a more nuanced portrait, as she explores many of the community's divisions, including conflicts among clans, partial estrangement between those who embrace Christianity and those who have kept their animistic traditions, and political differences over how to respond to the turmoil in Laos and even how to celebrate the Hmong New Year in the United States.
Among the major events Vang describes is the American airlift of Hmong military officials and their families from Laos right after the Communist takeover. Far too few planes were sent to transport the many thousands waiting, and panic ensued. "Fighting to get out of there was like a bunch of ants fighting to get into the ground," a soldier's wife told the scholar.
In the United States, wartime-era political hierarchies lingered in some mutual assistance associations, but new leadership also emerged, in women's associations and other nonprofit groups. In the past 18 years, several Hmong have won seats on the St. Paul school board and in the Minnesota State Legislature.
Vang ends hopefully, noting that even as the Hmong make economic and educational advances, they are holding onto their language and many aspects of their culture, and handing those down to their American-born children and grandchildren.
She answered questions about her book by e-mail as she was taking a winter-break trip to Laos and Vietnam.
Q. As a member of the one-and-a-half generation, do you feel as if the experiences of the older generations of Hmong were shared with you as you were growing up? Or was it not until you began your work as a historian that you learned in any detail what led to the diaspora?
A. Even before I began my work as a historian, I was interested and paid attention to things occurring in the Hmong community. Many in the 1.5 generation have heard about our parents' experiences during and after the war. Parents often remind us of the difficulties they encountered as a way to encourage us to work hard and make something of ourselves.
Q. How did you get the people you interviewed to open up?
A. I often began my interviews by highlighting the importance of Hmong people's contributing to the production of knowledge about Hmong life experiences. I think that most interviewees did not think their individual experiences were very important, so I also tried to convince them that indeed their perspectives were important.
Q. In other scholars' accounts, we have learned how Americans and other Westerners perceive the Hmong community. Your book is said to be the first scholarly work from inside the Hmong-American community. Do you feel the weight of that responsibility, and have you felt under pressure from the Hmong community or your clan to interpret events in a certain way? How do you balance that against your wish to fulfill your role as a scholar?
A. I have written this book based on many community members' life experiences and perspectives. Of course, the interpretations are mine. I have received some feedback on various chapters from other scholars and some Hmong-American graduate students, but not other Hmong-American community leaders nor members of my clan.
Writing about sensitive issues is sometimes difficult. Throughout the writing process, I decided that no book is ever going to satisfy everyone and that this is just my attempt as a scholar to understand and explain some of the changes in Hmong diasporic experiences during the last few decades. Although I believe community input is important, as a scholar, I did not feel that I had to get "permission" from the Hmong community to interpret their experiences. I do look forward to getting feedback from community members who do read my book.—Ruth Hammond
Return to Top