David Blight's New Approach to Civil War Memory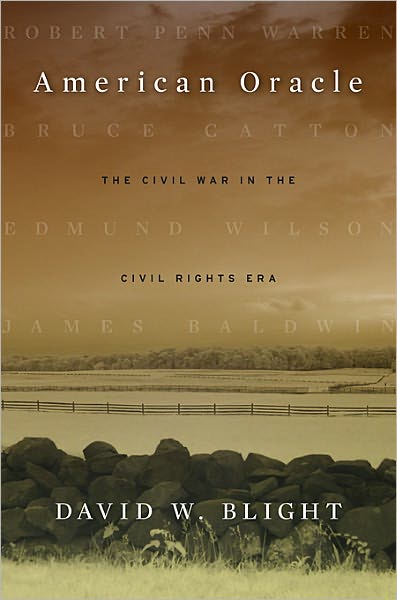 David W. Blight's American Oracle: The Civil War in the Civil Rights Era, just published by Harvard University Press, is a very different sort of contribution to the Sesquicentennial fare so far.
It's not a sweeping history of politics, culture, history, or race in the Civil War and its aftermath (as was Blight's own Bancroft Prize-winning Race and Reunion: The Civil War in American Memory, also from HUP). Rather, it is a study of four American authors—Robert Penn Warren, Bruce Catton, Edmund Wilson, and James Baldwin—in the era of the Centennial of the Civil War, as celebration met the civil-rights movement.
Via e-mail, the Yale University professor answered questions on his venture across disciplinary boundaries.
Q: In many ways, the book seems a conversation between eras: the 1960s when the centennial of the Civil War was still fraught with conflict and today's more celebratory, or cerebral, 150th anniversary. What does this perspective highlight?
A. I wrote this book, in great part, as a way of doing some good, serious history of the Civil War Centennial/Civil Rights eras and beginning to reflect on where we are now as a national culture in remembering and explaining the Civil War and Reconstruction. Looking back is almost always the best way of looking at ourselves.
The book is in many ways a conversation between the era of the Centennial and that of our own time. A great deal has changed in scholarship, schools, and public memory, and some things have not. So much of the planning, events, and publication of the official Civil War Centennial, at state and national levels, never managed to liberate itself—most whites never wanted to—from the hold that the Lost Cause tradition had on American culture.  The ideas that the South had never really fought for slavery, but only for home, hearth and sovereignty, that the Confederacy was a bulwark trying to hold back the ravages of the industrial age, the last stand of an orderly racial system of contented natural laborers (black slaves) and benevolent landowners and managers (white slaveholders), still had a firm grip on the national imagination. That may be difficult for many to grasp today, but the evidence is overwhelming and I try to show that in the book.
Such a set of ideas, though, then ran head long into the civil-rights revolution—with enormous ramifications for how we as a culture would begin to confront and reimagine our national memory and the deep myths we live by. My four writers, Warren, Catton, Wilson, and Baldwin, all in differing ways, were determined to break the Civil War out of its shell of sentimentalism. Today, that shell has been broken in academe and in schools, and to a degree, in public history. We do, though, still face a public memory that often demands a story of the blue and the gray rather than a story about racial reckoning and transformation born of the Civil War and emancipation. And today, the tradition of states' rights, even of nullification, roils all round us in our political culture, so often dominated now by arguments by the Libertarian right wing, which shares a great deal of ideology and constitutional outlook with the secessionists of 1861.
Q: Why did you choose the authors you did?
A. For particular and representative reasons.  Many other writers of the era might have been included if I had wanted to write a massive literary-intellectual history. One of them, Ralph Ellison, is the source and subject of my epilogue.
Warren (1905-89), led me into this project. Or, I should say I have followed and read him for years. Born and raised in Guthrie, Ky., on the Tennessee border, Warren was a white Southern poet-novelist-essayist who grew up deeply imbued with the Lost Cause ideology, including white supremacy, but spent his often spectacular literary career overcoming and casting away those roots, also the deep source of his art. He lived the last 49 years of his life in the North, nearly 40 of them at Yale University. Warren's Legacy of the Civil War and Wilderness: A Tale of the Civil War, both published in 1961, along with his classic, All the King's Men (itself a great Civil War novel) represent that multiple-genre writer's life-long quest to comprehend the indelible impact of the events of 1861-65 on his family, on his own imagination, on is native South, and on the American nation.  My book title is drawn from a passage in Warren's Legacy, a book that still should be the starting place for every reader about Civil War memory.
Catton (1899-1978), was born in the tiny town of Benzonia, Mich., where he grew up enthralled with the stories and the aura of old Union veterans, some of whom he wrote about lovingly, if ironically, in his beautiful memoir, Waiting for the Morning Train. Catton did not write about the Civil War until he was 50 years old and had abandoned his career as a journalist and a high federal-government bureaucrat. But from 1951 to the early 1970s, he was by far the most popular and widely read American historian of the war, with readers reaching the millions in all sections of the country. Among his 15 books of primarily narrative military history, perhaps Stillness at Appomattox (1953) and The Coming Fury (1961) stand as his most lasting, although he had an exquisite talent for storytelling, formulaic as it could be at times. Catton's sheer impact on the stories in the heads of Americans about the fighting and the meaning of the Civil War was enormous.  His prose is magnificent, and as a stylist alone, he should and will be read forever.
Wilson (1895-1972) was born in Red Bank, N.J., went to private boarding school and graduated from Princeton University. During World War I, he served in the U.S. Army in France as a hospital orderly, burying the dead, and caring for physically and psychologically wounded soldiers, an experience that left him a life-long pacifist. Perhaps the greatest literary critic of the 20th century, this multi-lingual, cosmopolitan author who wrote about French, Russian, English and many other literatures, was a Yankee elitist who nevertheless had many relatives in the South and some Southern sympathies.  He spent nearly 20 years from the 1940s to the early 1960s discovering and reading writers from the Civil War era and produced his huge Patriotic Gore: Studies in the Literature of the American Civil War in 1962 to both great acclaim and consternation. Patriotic Gore is a book all Civil War historians and serious readers may have at least sampled, used, or quoted from, but seldom devoured whole. Its strangeness and its brilliance march together, and Wilson's blindspots about race and black writers are something I take up forthrightly in the book.
Baldwin (1924-87) was of the next generation from the other three writers, and his presence here may seem a bit unusual.  But from the early 1950s well into the 1960s, Baldwin became the most important writer of non-fiction essays about race, racism, civil rights, and especially the legacies of slavery and emancipation in America. Born into poverty in Harlem, the oldest of nine children, but educated in good New York City schools, Baldwin did not go to college for lack of money.  He was, in the parlance of the time, a Northern Negro; he did not travel to the American South until he was 33 years old. There he saw the land of Jim Crow, where his parents had grown up, and there he discovered many of the most compelling issues and historical legacies that animate his art. As the civil-rights movement took hold and began to reshape America forever through great struggle, blood, and social upheaval, Baldwin, by choice and circumstance, became the literary "voice" of the movement. As an essayist and itinerant speaker, especially in his works, Notes of a Native Son (1955), Nobody Knows My Name (1961), and especially his bestselling manifesto, The Fire Next Time (1963) Baldwin eloquently and unforgettably demanded Americans face their past of slavery, the Civil War, a violent emancipation, and a troubled era of Reconstruction and its long aftermath. For Baldwin, the Civil War was not a series of events in the 1860s, but a living infestation of legacies that he wore within his own body and soul as a black American.
Q: You're a historian. Do you think literary critics, or other historians, would agree with your picks?
A. No, not all literary critics would agree with my choices, although some already have agreed. More than once I have been asked why William Faulkner is not included.  Good question. But Faulkner died in 1962, and most of his great works on the burden of Civil War memory for the South and for Americans were well in the past. I wanted to have authors at the peak of their art in the Centennial and civil-rights years. Margaret Walker, author of Jubilee, might have been included, and I almost did. Her novel about slavery and emancipation did reach a broad audience, but she and her work did not seem to fit the kind of conversation, the narrative connections, and the theme of tragedy that the other four represented. I also made some choices about time and space, and wanted to write a book that would not get overly long. And yes, I am a historian fussing around in the worlds of literary history, often with great trepidation. But I learned so much and had a good deal of guilty, pleasurable fun writing this book. And I would add, in each case, I did enormous archival research on each writer, in their papers, as well as in the public media where their works were widely reviewed.
Q: How do you see the book as a meditation on historical memory and the philosophy of history?
A. I am so grateful for this question.  Yes, indeed, this book is a probing of the nature and meaning of history and memory. And yes, a way of trying to understand the philosophy of history!
Each of these authors was frankly obsessed, in very different ways and for different reasons, with the nature of the past, its place in shaping human identities, cultures, nations. All of them, explicitly, investigated and argued fiercely with America's tendencies toward a progressive, triumphal, sunny sense of history. And most important, all four in their own ways explicitly demanded that Americans try to see through their well-practiced and comfortable myths about the Civil War, in particular, and the nation's history, in general, and develop a genuine and authentically tragic sense of history. It is this theme of tragedy that binds them together as artists, writers and thinkers, and on that subject I put them in dialogue. In my prologue I develop that theme in some detail, and then in each chapter (which is in some ways like a mini-biography within a larger book) I probe how each writer understood, conceived of, and converted his idea of tragedy into art and narrative. A genuine sense of the truly tragic dimensions (not the superficial ones) of the Civil War is what the culture so needed during the Centennial era, and we need it still.
Q: You end the book with Ellison's quote that "the last true note of tragedy was sounded (and quickly muffled) in our land when the North buried Lincoln and the South buried Lee." Why end with that?
A. Well, that Ellison quotation only lives effectively after having read his story, "Tell It Like It Is Baby," and my own analysis of it, which is what I do in the epilogue. I was trying to allow Ellison to help me say that given the mountains of sentimentalism, nostalgia, and sheer aggressive forgetting our culture has amassed over the decades in order to forge a pleasing, unified, racially secure, if so divisive, memory of the Civil War and its great consequences, we need to find those writers, voices, and stories that help us digest what really happened in all its horror and transformation in the 1860s, and again in the 1960s. Otherwise, we will never be a country that can keep its promises and reach its potential by really facing its past. I would love to hear from readers after they have read my epilogue, and perhaps gone and also read Ellison's withering, horrifying nightmare about Abraham Lincoln's funeral.
Return to Top