Who was Simone Weil, the French philosopher (1909-43) who professed a profound desire to "re-enchant the world"?
She was a galvanizing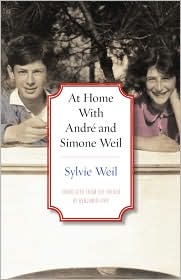 figure, to say the least: Severe ascetic and Jewish quasi-Catholic mystic, she disavowed Christianity's Hebraic origins and insisted on affinities among Rome, Israel, and Nazism. And she remained silent even while Nazism prepared to devastate European Jewry.
Weil's niece, Sylvie Weil, has made the latest contribution to demystifying her aunt's life and personality. At Home With André and Simone Weil (Northwestern University Press) is a slim but intimate portrait of Sylvie's own life as influenced by her aunt and by her father, André Weil (1906-98), a renowned mathematician who was long based at Princeton University.
Benjamin Ivry, an American biographer of Arthur Rimbaud, Francis Poulenc, and Maurice Ravel—and Chronicle Review contributor—translated the book, originally released in French last year. In a 2009 essay in the Forward, Ivry detailed recent plays, musical compositions, and other art works inspired by Simone Weil and wrote: "With the passing years, the disagreements about Weil's significance are only expanding, in a ferment that may be the source of her ongoing ability to inspire works of art."
In France, last year, a new biography of Weil, L'insoumise (Actes Sud), appeared, written by Laure Adler. Reviews have generally been positive, but have reminded readers that much remains to understand about the philosopher's odd personality.
Weil's niece helps out by giving a view of her aunt from within the context of the Weil family. Sylvie was born just a few weeks before Simone Weil's death, so she knows only what she has been able to glean from family records and recollections, and from Weil's writing.
Being Simone Weil's niece was hard work, says Sylvie Weil.
She confesses that she often resented and renounced her famous forebear. Admirers of the philosopher constantly assailed her with insensitive forms of admiration, all the more often given the niece's uncanny resemblance to the aunt. In a typical such encounter, a devotee might gush in intimate tones before disclosing that he was Simone Weil's cosmological twin.
"I was ashamed of my affiliation with her, as if it were a defect," Sylvie Weil writes. She was hard pressed to understand her aunt's oddities—her renunciation of sexuality, and much else. It didn't help the niece that her grandparents had committed their every waking hour to transcribing her aunt's notebooks, assiduously. For the niece, reading her aunt's work was not easy. "My aunt's writings on philosophy and history were as abstruse to me as the mathematical jottings scattered on my father's work table," she says. Still, she pored over acclaimed books like Waiting for God and War and the Iliad which were searing meditations on belief, spirituality, and ethics. Primarily, however, it was Weil's notebooks that won her over, because she could understand them, at least a little. And what they told her! "In my nightgown, squatting or sitting cross-legged directly on the floor, I would read: 'Christ himself descended and took me.'"
Simone Weil's output was considerable for a woman whose many ailments preserved her—but barely—to only 34 years of age. She suffered from tuberculosis and constant migraines, slept on the floor, and refused medical help and food, although she persisted in smoking heavily.
The University of Notre Dame Press has done most in recent years to provide greater access to Simone Weil's thought and life. In 2005, it issued Weaving the World: Simone Weil on Science, Mathematics, and Love, by Vance G. Morgan. And earlier this year, the press published E. Jane Doering's Simone Weil and the Specter of Self-Perpetuating Force, which described how the rise of Nazism led Weil, a staunch pacifist, to accept the use of force under some circumstances. In 2008, Oxford University Press released Marie Cabaud Meaney's Simone Weil's Apologetic Use of Literature: Her Christological Interpretation of Classic Greek Texts, on the philosopher's little-remarked interpretations of Greek legends in Christian terms. Weil believed that as fascist ideology gripped Europe, the continent should re-Christianize.
Weil's relationship to religion is complex. She was, of course, Jewish, however she disavowed that heritage, and embraced Catholicism, although she never joined any church. In his essay for the Forward, translator Ivry argues that critics have taken too little notice of her Jewish inheritance. Weil's niece, he says, refocuses on the philosopher's heritage by citing previously unpublished family correspondence and conversations.
Although Weil is held in high esteem among scholars, lay readers have at times confused her with the French politician and academic of a sound-alike name who was born in 1927 and transported at 17 to Auschwitz. Still, the philosopher Simone Weil was renowned in her own era, and influenced many better-known thinkers, among them Albert Camus who wrote: "It is impossible for me to imagine a European renaissance that does not take account of the requirements that Simone Weil has defined."
That acclaim, even though, as Susan Sontag wrote in The New York Times in 1963, Weil's life was "absurd in its exaggerations and degree of self-mutilation," contemptuous of pleasure and happiness, noble in its "ridiculous" political gestures, elaborate in its self-denials, and tireless in its "courting of affliction."
What to make of such a life? Sontag wrote: "Such writers as Kierkegaard, Nietzsche, Dostoyevsky, Kafka, Baudelaire, Rimbaud, Genet—and Simone Weil—have their authority with us because of their air of unhealthiness. Their unhealthiness is their soundness, and is what carries conviction. Perhaps there are certain ages which do not need truth as much as they need a deepening of the sense of reality, a widening of the imagination."—Peter Monaghan
Return to Top