With the final book out last week, the University of Toronto Press could not have had better timing for completion of its 30-volume Collected Works of Northrop Frye.
July 14 marks the centenary of the birth of the Canadian giant of literary criticism. The University of Toronto is planning a major Frye conference for October.  Another will take place in Hungary, in August.
By general agreement among literary scholars, Frye irreversibly reformed the practice of literary criticism, and arguably was as comprehensive in his conception of it as Sigmund Freud was of psychology.
His first book, Fearful Symmetry: A Study of William Blake, which Princeton University Press published in 1947, illuminated the work of the English Romantic poet and illustrator as never before. And it instantly made Frye a key figure in literary studies, at the age of only 35.
His hugely ambitious Anatomy of Criticism: Four Essays (Princeton, 1957) argued that literary criticism could be a kind of richly scientific discipline, one in which critics could explicate the deep history, structures, and relevance for the human imagination of myths, symbols, archetypes, and genres.
In The Great Code: The Bible and Literature (Harcourt Brace Jovanovich, 1982), Frye addressed the nature of metaphor in the Bible. He explored the imagery of scriptures for their evocations of typologies, particularly apocalyptic and demonic imagery that he believed crucially inform Western thought.
Frye's approaches, from the beginning, marked a drastic shift from earlier forms of literary study, argues Jean O'Grady, the associate general editor of Toronto's series. He swept aside a belle-lettrist focus on literary works' beauties and flaws; he also dispensed with an historical approach that related works to their times and made criticism a "mere parasite on history."
But by the time of his later works, Frye's influence had begun to wane in face of such movements in literary criticism as structuralism and postmodernism, and later, the "new historicism." The 30 volumes of Toronto's Frye series will demonstrate his continued relevance, say O'Grady and Alvin A. Lee, the series' general editor. Among its revelations is how often, and extensively, Frye anticipated the best contributions of later movements, says Lee, on the phone from Hamilton, Ontario: "When I started reading De Man, Derrida, and the like, I was struck over and over again by how much Frye anticipated much of what they said, in the 1950s. His writing foreshadows key features of many later movements. But it was also somewhat timeless."
The general editor, who spent much of his career at McMaster University, echoes O'Grady in admitting to having staggered over the finish line of the ambitious project. "I was determined to outlive it," says Lee, who is 81.
Both Lee and O'Grady took classes with Frye during their days at Victoria University, a division within the University of Toronto where Frye taught undergraduate courses for over 40 years, beginning in 1939. The collected-works project has been based at the Northrop Frye Center there, and has proceeded with grants from the Michael G. DeGroote family, through McMaster University (where Lee served as president and vice-chancellor throughout the 1980s), as well as from Victoria University and the Canadian government.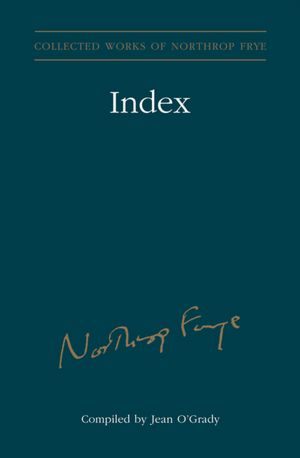 For the final volume, O'Grady compiled an extensive index in which she rearranged the index items from the 29 previous volumes to reflect Frye's chief ideas, such as "God" and "art," as well as people, books, places, and institutions that shaped his professional and personal life. The volume also contains all of Frye's substantial public remarks on his life, writings, and reputation.
The 30 volumes comprise a "reading edition," not a fully critical edition noting all variants. Those, in any case, were few, given Frye's meticulous preparation of his manuscripts and typescripts. He donated all his papers to the library at Victoria University. He had studied at Victoria's undergraduate college before graduate studies at the University of Oxford and, again, Victoria; he had also studied for the United Church of Canada ministry at Victoria's theological seminary.
The orderly maintenance of Frye's papers also explains the series' rapid pace of publication: the 30 volumes started to appear in 1996, five years after the critic's death. Among the several editors who have worked with Lee and O'Grady are Michael Dolzani, a professor of English at Baldwin-Wallace College in Ohio who assisted Frye during the last year's of his life, and Robert D. Denham, who taught in the English department at Roanoke College and was Frye's bibliographer. They settled on such thematic titles as Northrop Frye on Canada and Northrop Frye's Essays on Shakespeare and the Renaissance.
Many of the volumes have presented a previously little-known Frye. He produced notebooks, diaries, and two volumes of letters to his future wife, all of which he signaled he was willing to have published. His unpublished writings reveal how exhaustively he prepared for teaching, and how capacious, and curious, his thinking could be. Like his intellectual mentor, William Blake, Frye was happy to cast his vision of literature and language in idiosyncratic, and cosmic, terms. He was given to creating diagrammatic schema of his life's work, as he saw it. That took such forms as mandalas organizing his sense of the whole of human knowledge.
When he was nine, he hatched a plan for a life's work of music or fiction, his eight-part "ogdoad." At 14, he attached one-word descriptive names to eight planned "definitive novels," such as Mirage, Paradox ("the most dizzily complicated of them all," Frye wrote in one of his notebooks), Ignoramus, and Twilight: A Valedictory, "my Tempest, the work of my old age." He retained that kind of layout when he decided that his destiny lay with criticism.
O'Grady, although she admits that indexing Frye's schematics and idiosyncratic conceptions drove her to distraction, proves to be a dedicated "Frygian" when summing up her time with the project: "It's been great. It has been such a pleasure because he's such a good writer, and fun to read."
Return to Top