New Book on Rwanda Becomes Target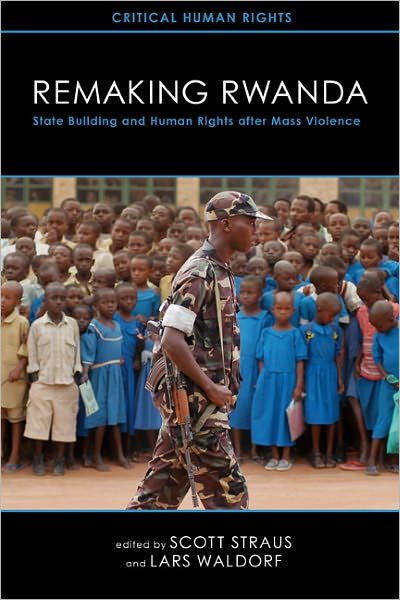 A new book from the University of Wisconsin Press has come under harsh criticism from sources with links to the Rwandan government.
Remaking Rwanda: State Building and Human Rights After Mass Violence is a collection of essays edited by Scott Straus, an associate professor of political science at the University of Wisconsin at Madison, and Lars Waldorf, a senior lecturer at the Center for Applied Human Rights at the University of York, in Britain.
Straus, emailing The Chronicle, says the assault started within a day of the book's official April 18 release. The New Times, a news site he says is "widely understood to be a mouthpiece" of Rwanda's ruling party, initiated attacks against the book and its contributors. In addition, a blog, Remaking Rwanda: Facts and Opinions on the Ground, was set up targeting several of the essayists. While formally hosted on blogspot.com, as of this writing the blog remains a feature on the homepage of the Embassy of Rwanda in the United States. Attempts to get a comment from the embassy were unsuccessful by the time of posting.
The Wisconsin collection, which includes 25 contributions by both scholars and activists, grew out of conferences held in Madison and London to honor Alison Des Forges, a historian and activist who died in a plane crash in 2009. Des Forges, a senior advisor on Africa for Human Rights Watch, was known for her work documenting the 1994 genocide and for serving as an expert witness and strategist in prosecutions of the génocidaires. Among her publications was the 1999 book Leave None to Tell the Story: Genocide in Rwanda.
But Des Forges, the editors note, "also fought for those who were falsely accused of genocide by the current Rwandan regime." And beginning in 2003, they write, she "spoke out against the vague and and sweeping allegations of 'genocide ideology' that have been used to suppress free speech, repress political dissent, and stifle independent civil society." Perhaps most controversially, Des Forges also urged that the International Criminal Tribunal for Rwanda initiate prosecutions for war crimes and human-rights abuses that she alleged were committed by the Rwandan Patriotic Front, the rebel group that became the current ruling party.
While there is a range of opinions in the book, Straus says, the balance of the essays are critical of elements of Rwanda's current direction. "This we felt was important in light of the prevailing consensus, which is generally positive." While acknowledging Rwanda's "undeniable accomplishments" in the book, the editors urge inquiry into the government's path of "social engineering coupled with sophisticated authoritarianism." Key to the collection, they argue, is how the Rwanda case sheds light on the processes of post-conflict reconstruction.
Blurbing the book, Adam Hochschild, author of King Leopold's Ghost, says that it "offers an important corrective to the naively rosy picture of Rwanda that too often prevails in the American media."
Critics of the book have been colorful in their invective. In one New Times article, which was originally a blog post here, Straus, Waldorf, et al. are likened to vultures exploiting Rwanda as a means of advancing their careers. Meanwhile the blog currently featured on the embassy Web site has singled out specific contributors. For example, a human-rights activist who writes in the book on prison conditions in Rwanda is said to have a "pathological hatred" for the country and "an ethical deficit." Another post uses the term "Fraud Ph.D." to condemn a scholar who writes about her experiences doing doctoral research in Rwanda and being ordered by government officials to attend an ingando, or what she terms a "citizenship reeducation camp," because of their displeasure with her ethnographic work.
Straus says he is saddened, but not entirely surprised, at the response to the book. The political scientist says he knows from personal experience and from conversations with colleagues that "a number of researchers tend to tone down their concerns about contemporary Rwanda, or avoid writing about them, in order not to fall afoul of the regime." Any researcher, he says, can expect a very negative reaction with the publication of an article or book critical of contemporary Rwandan government policies.
Researchers "internalize the logic of intimidation, which means that many of us self-censor. We say to ourselves, in effect, if I speak out I jeopardize my access to the country and to my interlocutors." That self-censorship, he says, "ultimately produces a skew in the published scholarship on Rwanda."
The attacks, Straus argues, confirm a point made by several of the book's contributors:  "There is little space for critical dialogue or public dissent in contemporary Rwanda."
He writes, "If you are an academic, journalist, civil-society actor, or politician living in Rwanda, you are more vulnerable than almost all the contributors, who live outside the country. Who would ever want to criticize the government if this is the kind of response you would get?"
A recurrent theme for the critics of the Wisconsin book has concerned the legitimacy of outsiders who comment on Rwanda. However Straus argues that "it is left to outsiders to make critical comments if the domestic political space is largely closed." Moreover, he adds, "if outsiders are publicly positive on Rwanda, as many are," official sources do not question their standing as observers.
In an email from the Wisconsin press, Gwen Walker, the editor who worked with Straus and Waldorf on the collection, writes, "our authors have spent years, in some cases decades, studying Rwanda. I respect them for the depth of their research and reflection (which was confirmed by our peer review), and also for their decision to share their findings with a larger audience, despite the politically volatile climate."
Writes Scott Straus: "Speaking personally in regard to this book, I felt that in the aftermath of the death of Alison Des Forges, who carried the human-rights torch on Rwanda, those of us with experience in Rwanda and who had concerns about the trajectory of the country had a responsibility to speak up."
It's a little early to know what effect the controversy will have on the book and its contributors. However, in a brief blog post on Remaking Rwanda and its travails, a professor at the University of Nebraska at Lincoln wrote: "For my part, I suppose I'm happy not to have a piece in this book … as it means that my students can probably continue to travel to Rwanda to do research, at least for the time being."—Nina Ayoub
Return to Top