[caption id="" align="alignleft" width="177"]
Carrie Donovan[/caption]
A few weeks ago I heard Carrie Donovan (Head of Teaching and Learning, Indiana University Libraries ) give a keynote address at The Innovative Library Classroom Conference.
Here are the slides from her talk: Shaking up the Sediment: Re-energizing Pedagogical Practice while Avoiding Bottle Shock. And here are slides from the other presentations at the conference.
My main takeaway was the transition that Carrie is experiencing from teaching to consulting. This is a theme that seems to be gaining momentum; I'm seeing fragments of this concept appear more frequently. It seems we are at the doorstep (threshold?) of an evolutionary leap in terms of information literacy and library instruction. I asked Carrie a few questions about this transformation.
Tell me about the major themes of your talk.
CD: Because I was invited to speak at TILC (The Innovative Library Classroom) on any topic related to information literacy, I thought it would be an appropriate audience with which to discuss the shifting educational roles for librarians and how we are adjusting, adapting, etc., as well as the reasons for these shifts.
Knowing the challenges I've been through in taking on these new roles, especially because the result is that I no longer have as much direct student contact – where I had previously gotten all my instructional moxie, professional capital, and sense of self-worth (professionally speaking) – I figured others might be going through the same transformations or transitions. It turns out, they were, because I received a lot of comments at the conference (and afterward) from colleagues who were looking forward to the NEXT BIG THING and felt that these kinds of changes were imminent.
Tell me more about the origin of these instructional transitions.
CD: At my institution, the reasons for librarians to adopt more consultative approaches to designing information literacy education, rather than focusing entirely on the delivery of library instruction sessions, have really been practical: dropping numbers of requests for one-shot library instruction sessions for core first-year courses (our students are coming in having already taken these courses or they are fulfilling these credits elsewhere) with the resulting opportunity to focus more on integration of research methods and info lit concepts into upper division courses (through our assignment design consultation, incentives for faculty and librarians to partner through library-led grant initiatives, and support for subject liaisons in developing course assignments and assessments around info lit).
During your talk you mentioned a deep interest in Paulo Freire. How did that begin? And how do you apply his ideas to your work?
CD: One of my students in S573 "Education of Information Users" at the library school at Indiana University, Dunstan McNutt (now a librarian at Amherst College), introduced me to the concept of critical information literacy in 2008. As I read more about it, I kept coming back around to Paulo Freire and decided to read Pedagogy of the Oppressed and then Pedagogy of Hope. After that, when I came across critical theory in the library literature (through Budd, Elmborg, Jacobs, Kapitzke, etc.), it always made sense to me and I felt connected to the ideas.
I started wondering if critical theory wasn't the underlying thing, the hook, the foundation, that information literacy and (maybe) librarianship had needed from the start… it seemed to be a way better match for librarians (especially for those of us with teaching in our hearts, anyway) than neutrality and it already made so much sense because of the radicalism, the social justice aspects, and the desire to empower people that is inherent to our practice. This is what was the driving force of my professional self, I just never had a label for it before I met critical pedagogy.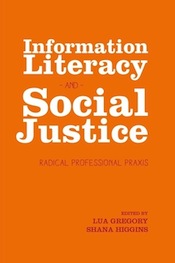 So, getting to know Freire and to think of myself as an educator through his eyes was challenging, illuminating, justifying, and offered a bit of an awakening that came along at the right time for me, professionally. In 2011, I had the opportunity to work through some of these ideas more fully with my Graduate Assistant at the time, Sara O'Donnell (now a librarian at U of Northern Colorado), as part of a book chapter in Information Literacy & Social Justice: Radical Professional Praxis edited by two very clever and dedicated librarians: Shana Higgins and Lua Gregory. This writing project allowed me to connect to more big thinkers like bell hooks, Henry Giroux, and John Dewey, who are now also on my go-to list when I need a jolt of renewal or a reminder of what it's all about because they help me to refocus on not only how I do things, but why. It's the why that gets me through the self-doubt, the long hours, and the disappointments that go along with this work – because I know I'm part of a bigger struggle. And it's worth it.
Tell me about applying critical pedagogy in the classroom. What if the instructor is not looking for that type of engagement?
CD: I guess it would depend on the way it is manifest in librarians' teaching, but if you are working within a context in which library instruction is at the request of faculty members mostly and they often suggest the outcomes for your teaching, I can imagine a course instructor might be surprised if a librarian were to teach concepts contradicting the way course assignments are written, for example, or if librarians were to recommend research strategies that are in conflict with the instructor's expectations or his/her own disciplinary practices, or if librarians were to teach in such a way that undermined the authority of the instructor or the systems of authority to which he/she expects students to subscribe.
I am pretty excited about the aspects of the ACRL Framework for Information Literacy that will move librarians' teaching into this more complicated space where there are no clear answers regarding how to "do" research. It also seems to be a more realistic context from which to approach information, since it is also so layered and chaotic and messy these days, too. Now that I think about it, we'll probably find that instructors and professors are really excited to partner with librarians in order to engage their students in debate and conversation around topics such as authorship, inquiry, and information-creation and all the ways in which they are influenced through political, social, economic, cultural, etc. structures. So, I think we have a lot to look forward to in terms of the Framework, its implementation, and the possibilities it will generate for librarians in our roles as educators.
How do you see library instruction evolving?
CD: I feel lucky that library instruction and information literacy is the focus of my work because I do think it is poised for a transformation that, for those of us who have been around for a while, will be groundbreaking and inspiring. I don't exactly know what will be next in the evolution of librarians' teaching, but I do think it will become more and more about collaborative, campus-level initiatives that situate information literacy firmly and securely in the student experience – both in and beyond the classroom.
I've been simultaneously troubled and inspired by this great article by Susanna Cowan in which she describes librarians' insistence to hold onto our teaching of information literacy sessions, tutorials, and workshops as an actual deterrent to student learning. Instead, she recommends that we let go and allow information literacy to take on its own life, beyond the library, in order to more fully influence student life initiatives, academic support structures, and curricular design, delivery, and assessment. I'm not to a place yet where I can leave behind my sense of ownership of information literacy, but maybe one day I'll let go and then I'll know what winning (the way that Cowan describes it) feels like.
What advice would you give for others experiencing transitions similar to yours?
CD: Wow, that is a tough question. I think I may be too new to the transition myself to know how to advise others. I would say something that has helped me was not to hang on to how I have done things in the past and to seek out new ideas and to consider all the options – even those that really challenge my way of thinking, my professional identity, and what I think I know to be true.
Any advice for new librarians?
CD: We need your ideas, creativity, and help, so please bring your A game!
What excites you about the future of libraries?
CD: What is exciting about the future and even right NOW for libraries and librarianship (through my info lit lens, of course) is that we all have a voice and there are so many unknowns that there are no real experts at this moment. The playing field is leveled in such a way that we can all contribute to what comes next. And I personally can't wait to see how it all unfolds.