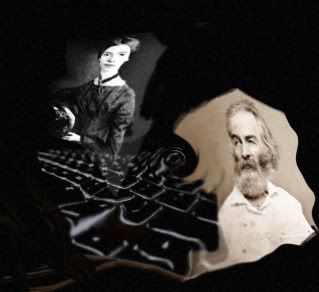 By Lisa Russ Spaar
We live in a time of rampant, mercurial self-portrayal. We can, if we wish, post, profile, tag, chat, friend, transform, lie, project, stalk, date, connect, complicate, simplify, vex, blog, tumble, and identify ourselves with dazzling velocity through a protean real-time landscape of social networks, ranging from the ubiquitous Facebook to virtual communities enmeshed by an interest in couch-surfing, opera, anime, and an array of signifying passions whose devotees, virtual and real, are forming and communing and falling apart even as I type.
Poetry—American lyric poetry, in particular—has always engaged in a paradoxical relationship with selfhood, identity, and influence. "I celebrate myself," Walt Whitman famously pronounced in 1855, revealing later in the same poem a mad, collective desire to be "quiver[ed] to a new identity." Whitman's sister poetic American innovator, Emily Dickinson, wrote "I'm nobody! Who are you?" but could not have been more concerned with the spiritual, emotional, and erotic circumference of the discreet self, what she would call "that Campaign inscrutable / Of the Interior": "I felt my life with both my hands / To see if it was there - / I held my spirit to the Glass, / To prove it possibler - // I turned my Being round and round / And paused at every pound / To ask the Owner's name – / For doubt, that I should know the sound - ."
Their poetic personae were various and contradictory. Whitman could be, by turns, a sensuous speaker of the nation, a vital man, "one of the roughs," or a depraved, broken, street-bound beggar. Dickinson could be coy and childlike, or ferociously masterful ("Title divine, is mine / The Wife without the Sign"), leading Camille Paglia to call her the Madame de Sade of Amherst.
Whitman and Dickinson both composed much of their work on scraps of paper and in small notebooks or hand-stitched booklets. Dickinson wrote at a table the size of a child's desk. How did the exigencies of 19th-century life and the technologies of writing culture inform the poems they made—Whitman, the printer, with his choice of an oversized folio for his quicksilver tonal shifts, his relentless lists and cataloging? Or Dickinson's wildly compressed, volatile, arguably Twitterable and hypertextual scribal explosions that often flooded and confounded the page at hand?
How will our rapid-fire technologies—our implacable, virtual networks, tiny screens and keyboards, our busy thumbs—affect the poems we make as we move into the second decade of the 21st century? In what ways, if at all, will the writing spaces we inherit and inhabit, and the ways in which we mark them, reflect and create our sense of, or unconcern with, selfhood in the American lyric poem and how that consciousness is communicated? How will our innovations speak to our influences, literary and extra-literary?
I have students who speak their ideas for poems into their cellphones, which puts me in mind of Wordsworth, composing as he walked. Others take up Gertrude Stein's avant garde thread, playing with Flarf, Spoetry, Spamlit, Word salad and other continually morphing, generative modes that challenge canonical approaches and plunder technologies with intelligence, energy, and subversion—a fresh takes on Hart Crane's "new thresholds, new anatomies."
That poetry continues to explore human consciousness in its slippery, manifest, and veiled complexity binds me to its emerging voices and embodiments. What is the American self inherited and forged in the increasingly multicultural and cross-genre American poem? What is the American poem in such a context?
I love the ways in which the hybrid autobiographical verses of Kazim Ali's Bright Felon or Jennifer Chang's post-pastoral History of Anonymity, for example, talk back to both Dickinson and Whitman while exploring cinema, physics, legend, and politics with current attention and savvy. Charles Wright once quipped, "If your backyard is just your backyard, you might as well crack open another Budweiser." In American poems, the turf of the private self will always represent more than itself, formally, linguistically, culturally. That the opposite is also true is also cause to read and make poems.
Lisa Russ Spaar is a professor of English and poetry writing at the University of Virginia. Her poetry books include Satin Cash (Persea Books, 2008), All That Mighty Heart (University of Virginia Press, 2008), and Blue Venus (Persea Books, 2004). She selects Monday's poems for Arts & Academe and will write a monthly column about poetry.