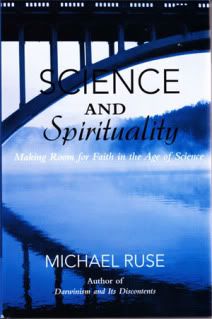 I have spent over 30 years fighting Creationists, especially the out-and-out literalists who believe that the earth and its inhabitants were made miraculously in six days, some six thousand years ago. More recently, I have been combating the so-called Intelligent Design Theorists who argue that the organic world is so complex one must assume a designing intelligence intervened miraculously. I believe that Darwinian evolution is the right explanation of organic origins and that these so-called alternatives are relicts of an idiosyncratic form of American, Protestant, evangelical Christianity from the 19th century.
I am of course one of many involved in this fight. The late Stephen Jay Gould, paleontologist and brilliant popular science writer, was a major figure. So also is this year's Templeton Prize Winner, the geneticist Francisco Ayala. Special credit must also go to the National Center for Science Education, an organization that exists to fight attempts to get biblical literalism into the nation's biology classes. No praise can be too high for its director, Eugenie Scott, who devotes her life to the cause.
One thing that we Creationism fighters came early to realize is that the proper approach has to be grounded on the belief that science and religion are things of different natures—what Gould used to call different Magisteria. Apart from anything else, given the way that the First Amendment has come to be interpreted—separation of church and state—it is only by taking this approach that one can mount a legal case, one that was mounted with success against Creation Science in Arkansas in 1981 and with equal success against Intelligent Design Theory in Dover, Pennsylvania in 2005. The Constitution does not bar the teaching of bad science. It does bar the teaching of religion. The trick therefore is to show that evolution is science and Creationism and its varieties are religion.
There is also a very good social reason for keeping science and religion separate. Americans are religious. If you argue that science simply smashes everything that is central to religion, you are not going to make many friends. Why should people allow their kids to take biology classes if the message is going to be that it is just a pile of hooey to entertain any thoughts and hopes that the death of Jesus on the Cross and his resurrection on the third day makes possible our eternal salvation? This is why the New Atheists are not very helpful when it comes to the fight against Creationism. In their books, like The God Delusion, and on the blogs, like Why Evolution is True and Pharyngula, they preach nonstop the message that science wipes out religion and a good thing too. This may go down well with their audience but is anathema to the average American. It is little wonder that the New Atheists provide the Creationists with their favorite reading.
Obviously, because something is legally and socially desirable, that does not make it true. And equally obviously the case cannot be made that science and religion never come into conflict. You cannot hold to Noah's Flood and modern geology at the same time. You cannot with the Mormons think that the native people of America are the lost tribes of Israel and accept modern anthropological beliefs that these people came over the Bering Strait. At most, what you have got to show (staying with Western Christianity because this is where the real conflict arises) is that traditional Christianity—the Christianity of Augustine and Aquinas, of Luther and Calvin—does not conflict with modern science. (This is not to say that these thinkers would never have accepted things that today science rules unacceptable, but that they gave a methodology to accept new findings.)
Can this be done? In past pieces in this series of Brainstorm posts, I have tried to prepare the way. The important thing about science, as stressed by Thomas Kuhn, is that it is deeply metaphorical. It succeeds because of its metaphors—force, attraction, natural selection, genetic code, arms race, Oedipus complex. The important thing about modern science is that it is dominated by the metaphor of the machine—the world works or functions like a machine, endless motions obeying fixed natural laws. This holds in the physical world, it holds in the biological world—Richard Dawkins speaks of us as "survival machines"—and thanks to the metaphor of the brain as a computer, it holds in the psychological world also. And finally, the important thing about metaphors is that they put on blinkers. They help to find the right questions to ask—What is the meaning of the order of these different smaller molecules along the backbone of the macro DNA molecule?—and they also rule out other questions as irrelevant or meaningless—Is the DNA molecule Protestant or Catholic?
Cut to the chase. There are a number of questions that are simply ruled out by the machine metaphor as applied to our world. First, why is there something rather than nothing? Machines take the ingredients for granted. It is rather like Mrs. Glasse's recipe for jugged hare. Take your hare. Note that this does not mean that the question (often, for obvious reasons, known as the "fundamental question") is meaningless, although as it happens Wittgenstein thought it was. It is just that it is not a question addressed by modern science. You can of course as a scientist ask about origins, that is what evolutionists do all of the time. But ultimately, the world is a given.
Morality is another question not addressed by modern science. David Hume pointed this out. You cannot legitimately go from matters of fact to matters of obligation. Of course the way the world is and what you know about the world can affect your moral decisions. Should I cut this person open and jiggle about with their heart? Well, only if you have the medical knowledge to do so. But that is it. Machines just are. It is what we decide to do with them that brings in the right and wrong.
More contentiously, with Leibniz and many modern thinkers like John Searle, I don't think that machines think. Or let me be more precise. Perhaps machines do think. Remember Hal in 2001. I don't think machines explain the phenomenon of consciousness, sentience. I am not sure whether this drives you back to some kind of Cartesian dualism, as suggested by David Chalmers, or whether perhaps the problem of sentience is simply something we will never explain, as suggested by Colin McGinn. What I do know is that when people like Daniel Dennett say that they have a solution as soon as they have described the working of the brain, they are whistling in the wind. Electrical circuits firing off are not the same as appreciating a Mozart opera.
Finally, there is the question of ultimate purpose. The Nobel physicist Steven Weinberg says that the more he studies the world the less purpose he sees in it. I am not surprised. He is not engaged in an inquiry that will yield purpose. This may seem a bit strange because surely machines do have purposes. The automobile is for transport, the stove is for cooking. However, as scholars of the Scientific Revolution have long pointed out, no sooner had people like Galileo and Descartes adopted machine thinking than they realized that all they were really interested in were the mechanisms. Of course, God may well have created everything for a purpose, but as far as science is concerned God rapidly became a retired engineer. So here is another area that modern science simply does not speak to: What is the purpose of it all?
There may be other questions to which modern science does not speak and can give no good answers. Several of my colleagues down here in the Philosophy Department of Florida State think that free will is something ultimately beyond the scope of science. But four are enough for present purposes. Science says nothing. It is silent. The question now obviously is whether religion can pick up and run with this result. I will turn to this in my final piece in this series.