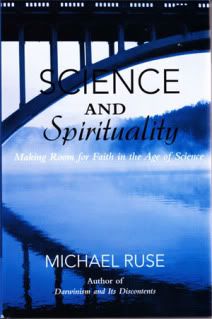 I have just finished reading Diarmaid MacCulloch's, Christianity: The First Three Thousand Years. The thing that came through most strongly and persistently was the capacity that co-religionists have for hating each other. You may deplore the fact, but you can at least see why (say) Christians and Muslims are at odds. Perhaps you can see why Protestants and Catholics are at odds. But then you have people who are in basic agreement about everything and up comes something that seems to the outsider absolutely trivial and that surely has nothing whatsoever to do with Jesus of Nazareth and getting into the kingdom of Heaven—about the exact meaning of the Trinity, for example, or the presence in the bread and the wine at communion—and before you know it, there is bitterness, and fighting, and burning at the stake and whatever.
I am reminded of this whenever I think of the so-called New Atheists, those militant evolutionists like the biologist Richard Dawkins and the philosopher Dan Dennett. Not only are they ardent evolutionists, not only are they ardent atheists, but anyone who does not tread the party line is anathematized with the vigor that the monophysites had for the dyophysites. (And if you don't know what those terms mean you can either read the thousand-plus page book by MacCulloch or look them up on Wikipedia like the rest of us.)
I am not going to get into the argument about whether the New Atheists are truly proponents of a secular religion, although I do think (and have argued) that there is a tradition from Darwin's great supporter Thomas Henry Huxley, through his grandson Julian Huxley, down to today's most eminent evolutionist Edward O. Wilson that makes a religion of the evolutionary picture. But I do say that, in their loathing of people like me, an "accommodationist" who argues that it is possible to accept modern science and be a practicing and sincere Christian (or Jew or whatever), these critics follow a very well-established tradition.
Frankly, politically it seems to me to be absolutely stupid—in America particularly—to set science up against Christianity. It is bad enough as it is to try to get evolution taught in the schools without telling parents that Christianity is a lunatic delusion and that evolution shows this to be so. But of course, you have got to make the case philosophically, as it were, and this is what I have been trying to do in earlier pieces on Accommodationism. Here I want to pick up where I left off and finish my case.
Please note that I am not trying to persuade anyone to be religious. Although raised a Quaker, for many years now I have been an agnostic and to be candid I am pretty atheistic about the main claims of revealed religion—resurrection and eternal life and that sort of thing. However, unlike the late Stephen Jay Gould in his Rocks of Ages, who argued that science and religion are different Magisteria and cannot conflict, but who then went on to confine the domain of religion to mere sentiment (he ruled out for instance the possibility of the Resurrection), I want to argue that the only worthwhile form of accommodationism is one that is going to allow Christians to have a fairly robust faith. If they cannot have the Resurrection, then it isn't worth the bother. This does not mean that they can have Noah's universal flood. That is a scientific claim and wrong. I have spent much of my life arguing against Creationists and I still do. But if the Resurrection can be shown to be a nonscientific claim, then that is another matter.
I argued the last time that because modern science is structured around the machine model, a metaphor, there are certain questions that not only does it not answer but that it does not even ask. Included here are "Why is there something rather than nothing?," "What is the ground of morality?," "What is sentience?," and "What is the meaning of it all?" My point simply is that although I don't have answers, I am a skeptic about all of them, I don't see why Christians shouldn't supply their own answers. They must not be answers that conflict with science, and there is nothing to stop the rest of us criticizing them on theological or philosophical grounds, but I don't think science as such can lay a finger on the answers.
Take the very existence of existence. If Christians want to say that things exist because they were created by a loving God, this is not a scientific answer but I don't see as a scientist where one gets off criticizing it. You can point out of course that this creator God cannot be one of the chaps like the rest of us, because that then gets you into paradoxes about "what caused God?" The creator has to be a necessary being in some sense, so that He (or She or It) requires no creator in turn. As it happens, Christians have long struggled with this notion, what they call "aseity," and you may or may not find their answers adequate. So I stress again that I am not arguing that Christianity is beyond criticism. If it were, I would be a Christian myself. But my point is that I don't think we are now in the realm of science. Necessary beings are simply not scientific, but because they are not it does not follow at once that they are meaningless or false.
Again, take ethics. My position which I have long championed is that moral claims are sentiments put into place by natural selection to make us social animals. But if a Christian says, "Yes but what is the ultimate ground of morality?" and then answers in terms of God's desires for us, I don't think that science can legitimately stop such a response. Of course, there are ways of critiquing the believer. In Plato's Euthyphro, Socrates raised the problem of whether God wants things capriciously or because they are good. Capricious desires simply don't seem moral and if God is following the good, then there is another ultimate standard beyond God. As it happens, Christians have some standard answers here too, often involving some form of natural law theory, which argues that morality is bound up with our physical natures. Murder is wrong because in some sense it goes against our nature. You may or may not accept this, but again I don't see that the discussion is scientific or that modern science as such can refute natural law theory. (It may of course say that you are not applying natural law theory in the right way, but that is another matter.)
It is obviously not very helpful to the cognitive scientist if the Christian says, "We are made in the image of God and above all that means we are not just lumps of clay, but sentient beings, like our Creator. Hence, we are put on earth to behave morally and to explore His creation." But as before this is simply not a scientific response and again I don't see how one can counter it on scientific grounds. Obviously you will disagree if you accept the kind of reductionist, materialist approach to sentience taken by someone like Dennett in his Consciousness Explained. If you don't—and many philosophers don't at all—then there is a legitimate opening for the believer.
Finally, meaning. I noted in my last piece on this topic that Steven Weinberg, the Nobel Prize winner in physics, says that the more he studies the world the less ultimate meaning he finds. I am not surprised, because he is not looking for meaning in the first place. But if the Christians want to look for and supply meaning, that is up to them. You may agree with the New Atheists—in fact, I do rather—that the Christian story with the possibility of hell or whatever for failure is both offensive and a tool whereby priests and pastors control their flock. I am right with those folk who took out an ad for the side of a bus that read: "There is probably no God, so stop worrying and enjoy your life." But if Christians want to argue otherwise that is their business. And to say that the Christian threats of hellfire are socially disruptive may be true but is no more of a counter to the claim than the argument that we should not link evolution and atheism simply because it will hinder the effort to get evolution into the schools. In both cases, arguments must be offered. I think probably arguments can be offered against hellfire or the modern equivalent, but they cannot be scientific.
So basically, that is why I am an accommodationist. Science is metaphorical, science has limits, if Christians (or others) want to offer answers beyond the limits, science cannot stop them. I had intended this to be my last piece on this topic, but some of the responses have raised really interesting questions, so I will write one more post where I try to pick up on and answer some of the most common queries and objections.