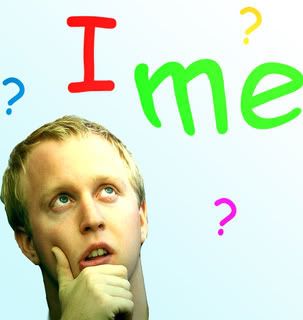 Uh-oh. Blogger grammar-grannies have been scolding Obama for frequently using the pronoun "I" when he should be using "me" — as in the phrase, "a very personal decision for Michelle and I." Now Obama's been grammar-outed in the mainstream media.
In an op-ed piece in today's New York Times, authors Patricia T. O'Conner and Stewart Kellerman point out that fussing over the distinction between "I" and "me" showed up only in the mid-19th century — probably, they say, because of grammarians who knew Latin. Obama isn't the only president to use the pronoun "I" when he should be using "me." President Clinton opted for, "Invited Hillary and I," and Bush liked "for Laura and I."
Even so, the authors gently chide Obama, saying "an educated speaker is expected to keep his pronouns in line." Then they advise him of an easy solution. They tell the president that if "you're tempted to say 'for Michelle and I' in tonight's speech, just mentally omit Michelle" (offering their apologies to Michelle). The point is well taken, if limiting. No one would ever muck things up by saying, "a very personal decision for I."
My grammar antennae always shoot up whenever I hear an educated person using improper pronouns, and as a professor, I lean hard on my students when they misuse them. Yet the proper use of pronouns is in turmoil, if not crisis. Lots of educated people now use the pronouns exactly the way our president and recent presidents use them — improperly, but barely noticed by anyone.
Because my ear is so finely trained to hear pronouns (thanks, Mom), I even vividly recall the time (this must have been in the early 80s) that CBS TV commentator Eric Sevareid railed against the "Between You and I generation." His ire was directed not so much at the error in pronoun use in the phrase "between you and I" as at the pretentiousness — of a whole generation — he thought it revealed. Uneducated people, he argued, never make this kind of error. The only people who muck up the use of pronouns in the objective case are those trying to sound more educated than they really are.
But Eric Severaid and his ilk are gone. And even though I can thank my mother for my pronoun propriety (she started drilling proper use of pronouns into me while I was still a baby), I'm sorry to report to the heavens (where she is, I presume), and the earth (where I live, with family, friends and enemies all ready to pounce on me for my grammar mistakes), that my own particular bête noire is the dangling participial phrase. While writing this little post, for example, the thought of my mother looking over my shoulder was enough to make me goof.
(Brainstorm illustration, incorporating a photo by Flickr user Marco Arment)