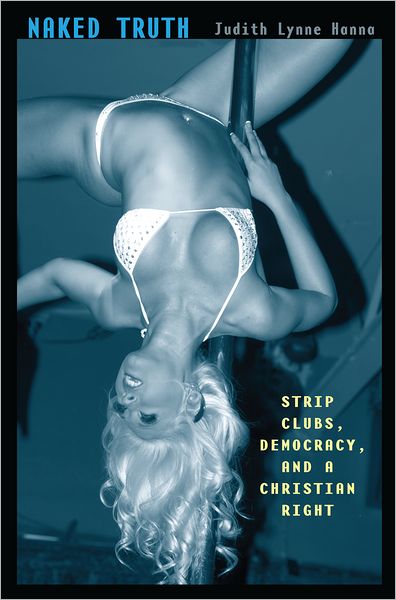 Judith Lynne Hanna has visited many exotic-dance clubs around the world where "I would feel comfortable dancing—if I could wear the high heels. And I was younger."
As she says so, the veteran scholar, now in her mid-70s, laughs at the idea. But it's clear from our talk that moral reservations wouldn't stop her.
Heels of four inches or more are a stripper's go-to footwear. Hanna describes their hazards, and much else, in her new book, Naked Truth: Strip Clubs, Democracy, and a Christian Right, just out from the University of Texas Press.
Hanna, a former Los Angeles high-school civics teacher with a master's degree in political science and a doctorate in anthropology, is a longtime dancer (modern) who has published numerous books as well as hundreds of journal, newspaper, and magazine articles. Now an affiliate senior research scientist in anthropology at the University of Maryland at College Park, she has written on exotic dance in journals of performance, urban studies, sexuality studies, and for the op-ed pages of The New York Times.
She argues that exotic dancing is a form of artistic expression to be celebrated—at the very least to be protected from concerted attacks by Christian Right activists who would like to see it banned everywhere.
Her new book makes the case for artistic merit, and also argues that activists on the Christian Right have been engaged in a campaign to drape exotic dance in charges that are tantamount to lies. "To those unfamiliar with the history and beliefs of the CR [Christian Right] and the methods of a segment of the politically active CR, this book may appear, at first blush, to be an unfounded diatribe and a brief for the clubs or dancers," she writes.
Not so, she insists: "The unfolding saga of my on-site experience (ethnography), buttressed by the writings of current and former members of the CR, scholars, and journalists, all combine to suggest otherwise."
What has this shadowy cadre of activists been up to? By claiming that strip clubs inflict a litany of "secondary effects" on communities—crime, harm to property values, among them—the activists have been provoking public denunciation of exotic-dance clubs, Hanna charges. The activists are entitled to state their case, she allows, but "no study shows a link between what exotic dance is—the dance movement, costumes, props, and distance or touch between dancer and patron—and any negative effects."
Of course, she adds, "there are good clubs and bad clubs, and good bosses and bad bosses. Every industry has that." And domestic disputes may bring violent men to clubs where their partners perform. Some patrons offend by groping dancers. But "gentlemen's clubs" belonging to Déja Vu and other national chains that trade on the stock exchange—a major trend in exotic dancing, since the 1980s—are hardly likely to tolerate untoward activities, she argues.
"There was a time when clubs were pretty sleazy, after burlesque died, and TV came along." But those are now the "has-beens" of the industry, she contends.
Hanna has studied the world of exotic dance since 1995, when a land-use planner in Tampa, Fla., and a lawyer in Seattle asked her to appear in an exotic-dance-related First Amendment case. "They wanted me to apply the same anthropological approach to studying adult entertainment dance that I used to study dance in African villages and cities and in U.S. schools and concert theaters," she writes.
She agreed, "excited to apply my somewhat esoteric anthropological knowledge to a world I did not know." Since then, she has appeared in 46 cases in courts from the city to the federal level, and at alcohol-control-commission hearings. In all but one case—a sexual-harassment case that a dancer filed against a club—she has appeared for the clubs. In all, by Hanna's count, she has worked with 59 lawyers on 125 cases in 29 states and the District of Columbia. She has observed 1,500 dance routines and dancer-patron interactions. She has interviewed more than 1,000 dancers, managers, owners, bartenders, house-mothers, and patrons at more than 140 of the country's 4,000 clubs.
Hanna's involvement increased after 2002, when she served as a judge in the Miss Exotic World Pageant at the Exotic World Burlesque Hall of Fame in Helendale, Calif. That led to an invitation to judge the 2005 Exotic Dancer Expo in Las Vegas.
All this, she can reasonably claim, makes her "the world's only expert court witness" on the "nonverbal communication" of stripping—on its claims to be "a form of dance, art, and theater that communicates with its own aesthetic."
Hanna says she undertook to wrote a scholarly book about exotic dancing and all its variants—nude and near-nude go-go, table, lap, and couch dancing—because, while many ethnographies of exotic dancing have appeared, as well as studies of the history, motivations, exploitation, objectification, and self-esteem of dancers and customers, she wanted not only to study the dancers and their world, but also to analyze the role of religiously inspired groups in organizing to shut the clubs.
Poring over municipal and court records of many kinds, Hanna realized that efforts to shut down dance clubs are almost always headed by pastors or church groups. Bringing lawsuits, picketing clubs, lobbying government, and organizing to have their anti-dancing representatives elected to legislative bodies are all within the activists' rights, the scholar agrees. But far from scrupulous, she insists, is the unstinting misinformation they have spread about exotic dancing. Hanna sees her role, in court appearances and in her book, as opposing laws that infringe on First, Fifth, and Fourteenth Amendment rights, as well as to defend dancers against false charges. Frequently trumped up, she insists, are charges of prostitution, lewdness, indecency, or obscenity.
The "stripperization" of America perturbs many people, even as it attracts many others. With growing public expression of sexuality in the media, in college spring-break antics, in the performing arts, and in many other quarters of American life have come "strip aerobics" in gyms, pole-dance parties in private homes, and instructional DVDs on stripping for the everyday woman. "Wives and girlfriends are flocking to classes," she writes.
In the opposition of the Christian Right, she sees signs that "women attempting to control their own bodies are viewed as seizing God's power." More generally, she believes, anti-exotic dancing forces wish for "dominionism," the "grand design to supplant our constitutional democracy with a Bible-based, Christian, theocratic governing elite." The dominionists' battle strategy is "imbued with militaristic rhetoric, boss political actions, multimedia campaigns, 'street fighting,' and psychological and legalistic approaches," she writes. "Exotic dance is merely one among several battle targets in a broader culture war."
Hanna does not always win in court by arguing that exotic dance, far from obscene, is "speech" with "serious artistic merit." That is no surprise in a country with so many elected judges, she suggests. Her tack is to argue that nudity is an expressive element found in many past and present forms of mainstream arts.
Beyond judges, that argument does not convince all dance theorists either. Once more, that doesn't surprise Hanna, who says the dance world has had its own battles for respectability—to escape a stigma of being part of the demimonde. "Contemporary dancers don't want to bring that up again," she says.
Some feminist theorists, too, oppose exotic dancing as an instance of the exploitation of women. The research she and others have done suggests otherwise, Hanna retorts. For starters, it suggests that stripping enhances dancers' self-esteem. Also counter to opponents' claims, she says, is the complexity of men's—and increasingly, women's—motivations in visiting adult-entertainment clubs, as well as dancers' ploys and playfulness as they encounter male fantasy and vulnerability.
"Every generation thinks the next generation's dance is obscene," she notes, in a phone interview. That has included 19th-century waltz partners who went so far as to touch each other, and 1920s' flappers who wore little and jiggled it about. It has proven true, too, of the demotic dance forms of today, such as what the young people call "booty dancing."
"Now we accept wiggling hips, or some people do—although in some localities, they don't want simulated sex. But what is that? You shake or move your hips?"
The scholar says she holds no brief for violence—but in eroticism, "I don't see the harm."