Almost two weeks ago, Google caught most everyone off guard by suddenly introducing a new social network, Google+. Google+ isn't the search giant's first foray into social networking. There was last year's Buzz, which really put a bee in everyone's bonnet with a privacy snafu on its first day. There's Orkut, which is relatively unknown in North America and Europe, but is among the top-visited websites in Brazil and India. And there's Google Friend Connect...which I hadn't even heard of until I started writing this post.
With no major problems in its first 13 days—except for the difficulty of securing an invite to the service during its "field trial"—Google+ appears to be the company's best entry into social networking thus far. If you've used any social network—but especially Facebook—the basics of Google+ will seem very familiar. You add people that you know to your circles of friends. You can then share status updates, photos, videos, and more with these circles.
What sets Google+ (hereafter "G+") from Facebook is the plural of that word "circles." When you start creating a friend list on G+, you're asked to add that person to one or more "Circles." You start out with a few circles titled "Friends," "Family," "Acquaintances," and so on. But you're welcome to create as many as you want and add each person to as many circles as you want. When you post your status or share anything else on G+, you choose which circles get to see your post. It can be just Family; or just Friends; or just Family and Friends (but not co-workers, knitting buddies, etc.). You can, of course, post to all your Circles at once, as well as Extended Circles (equivalent to "friend of a friend" on Facebook) or make something "Public." You can also share something with a single individual. To be fair, you can do this on Facebook with Friends Lists or Groups, but G+ makes this restricted sharing super simple and a foundation of its service.
While the concept of Circles feels pretty familiar to those who have "socialed" and "networked" previously, G+ adds a few more turns of the screw. "Hangouts" are essentially group video chats; when you start a Hangout, you can let as many of your different circles know as you'd like and then people are free to simply drop in. (For more on Hangouts, as well as another overview of G+, don't miss today's coincidentally timed introductory post by Andrea Zellner at GradHacker.) It's nothing revolutionary if you've used Skype or iChat, but it's well integrated into G+ and is something that Facebook doesn't have (yet). Another feature of G+ is "Sparks," which works a bit like a curated RSS feed. You simply provide an interest, and G+ will magically select tidbits to feed you. Suggested interests include "Biking," "Comics," and—a ProfHacker fave—"Robotics."
As is the way of these things, Google's got a nicely made, one-minute video telling you all about Circles.
There are equally lovely videos that explain Sparks and Hangouts.
New social networks are always fun to play around with, but all that playing around can die due to the network effect. If your friends aren't on G+, then you won't be either. That being said, there are some things that I'm really enjoying about G+ at the moment. In the first place, it integrates really well with all of my other Google services. What this means is that I can instant message with the same people in G+ that I chat with in Gmail. The list works the same in both places. Full integration also means that when I'm logged into other Google services I get unobtrusive notifications at the very top of the browser bar when anything new has happened in G+. I suppose this could get old if a lot of traffic suddenly started showing up in G+, but so far it's low-key and I appreciate not having to go to a single site (cough cough Facebook) to know what's happening. In the end, though, xkcd points out the major difference between G+ and Facebook: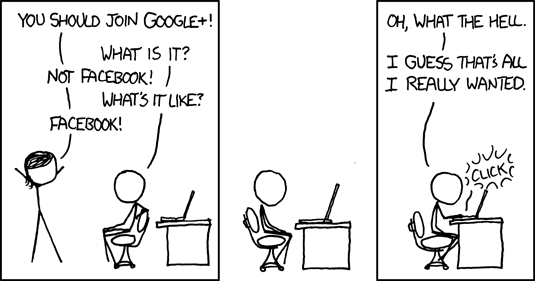 There are also some downsides to G+. You can't cross-post information to other social networks like Facebook, Twitter, or LinkedIn. You have to upload photos to Google rather than using a different service like Flickr. And it's another social network. If you're like me and read ProfHacker because you want to find more ways to get your work done, then G+ might not be for you. I've already found myself trying to think about whether I should post something to Twitter, to G+, or both. While Twitter has limitations, those are in many ways what I like about the service. That being said, I'm playing around with some ideas for teaching with G+ in the fall, provided all of my students can get in.
Have you been using Google+ already? What do you think? Could it play a role in your teaching? Let us know in the comments!
Post edited to include a few new links and CC license for xkcd.
Lead image: Circles / Esparta Palma / CC BY 2.0
xkcd comic strip: Google+ / Randall Munroe / CC BY NC 2.5